Free motion Christmas decorations/cards workshop 11th or 22nd November @ Tescos Fleetsbridge, Poole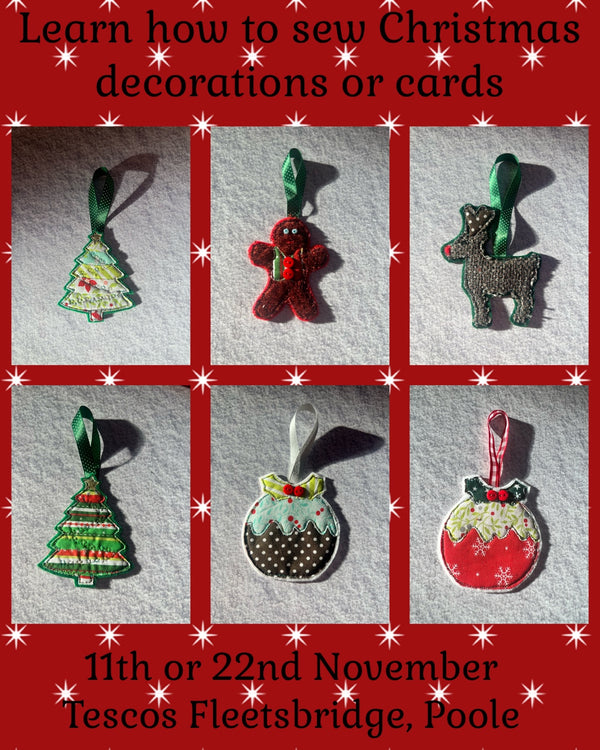 Come to our free motion Christmas decoration or card workshop
Date - 11th or 22nd November 2023
Time - 10-12.15pm
Location - Tesco Community room - Fleetsbridge, Poole
During this fun workshop you will be making a free motion Christmas decorations or cards.   Liz will guide you through each step of the project and will answer any questions that you may have.  
You'll come away with a fantastic free motion decoration or card and some great skills to use making other projects! You can make as many as you can in the time so hopefully you'll come away with a few  
All materials are provided for this workshop  
Please just bring your sewing machine and scissors 
Tea, coffee and biscuits provided 
Feedback from previous classes - 
"Thank you sooo much for today Liz! Literally smiled all day at the thought of it, I am so chuffed with my huts! Such a fun, relaxing few hours too"
"It was an enjoyable creative class where all the materials were provided, including delightful little accessories or dog shapes, bikes and tiny bunting which all added character and charm to the finished beach huts"
"Such a great workshop to meet new people, watch how creative everyone is with Liz's help.  I love my painted beach huts!"
Free motion class.
Loved the class. Everything provided, tuition really good in a lovely atmosphere. Will be booking again.
Lovely workshop
Spent a lovely morning at this workshop making Christmas decorations with Liz. A nice small group and everything was really relaxed, Liz was friendly and encouraging and I really enjoyed it. I'd love to do another workshop and yes, I did get some of the lovely templates to use at home :)
Great class
What a lovely morning. Great workshop. Lot's of choice of fabric and materials provided. Liz was very helpful and knowledgeable. Definitely would go to another workshop x