ACRYLIC APPLIQUÉ HEART SEWING CRAFT TEMPLATES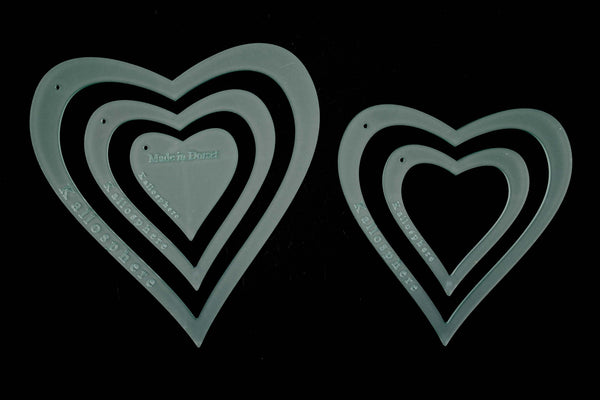 A delightful set of five acrylic heart craft/sewing templates with sizes ranging from 16cm x 17cm to 6cm x 7cm.
These are perfect for appliqué, quilting, paper craft, hanging decorations and much more.
It is made from 3mm acrylic which is very durable so can be used over and over again!  The frosted acrylic allows the fabric pattern to be seen through the acrylic for pattern matching.
If you require a different size please contact us!

*Samples in photos are not included in the listing*
Acrylic Templates
Just what my wife wanted. She has used them and said they are sturdy, well made and easy to use. We will definitely buy more shapes when she needs some others.
Love the company
I've ordered a few templates from this company and this was the biggest order. From the moment I emailed them for the bundle of 5inch large, small letters, numbers and symbols, they were efficient and professional. Delivery was approx a week after I rung and placed the order.
Great service and friendly.
Ahh thats so nice to read, thank you! I really hope that you enjoy using them :-)
Lovely
Just what I wanted, but such a shame that you couldn't post to jersey as I had to have them delivered to UK
So sorry about that, I have set it up and we can now ship to Jersey! Happy Sewing!
Template
As expected. Prompt service.