ACRYLIC CHRISTMAS STOCKING SEWING AND CRAFT TEMPLATES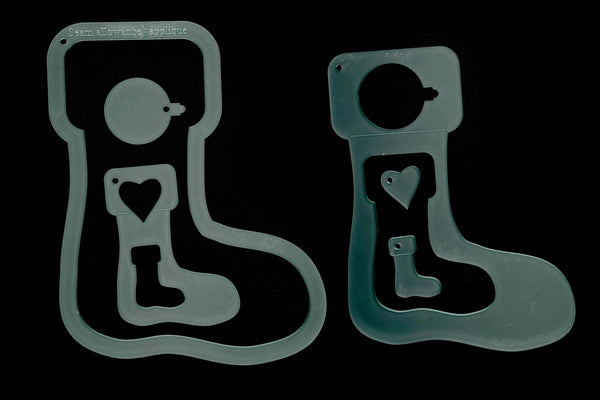 A fantastic set of christmas sewing/craft templates. These include four stocking templates, a bauble, star and heart.
They are perfect for appliqué, making stocking bunting or a stocking advent calendar or paper craft. The smaller stencils are great for appliqué or paper craft! Let your imagination go wild!!!
The stocking sizes are -
Large - 18.5cm x 14.5cm (measured at the widest part)
Medium - 16.5cm x 12.5cm
Small - 8.5cm x 6.5cm
extra small - 3.5cm x 2.5cm
It is made from 3mm acrylic which is very durable so can be used over and over again!  The frosted acrylic allows the fabric pattern to be seen through the acrylic for pattern matching.
If you require a different size please contact us!

*Samples in photos are not included in the listing*
Acrylic templates
I am very pleased with the templates, would definitely recommend and I have purchased again.
The only problem I have is seeing the sizes on my templates but I am going to try and highlight them..