ACRYLIC RIVET PLACEMENT TEMPLATE UP TO 4"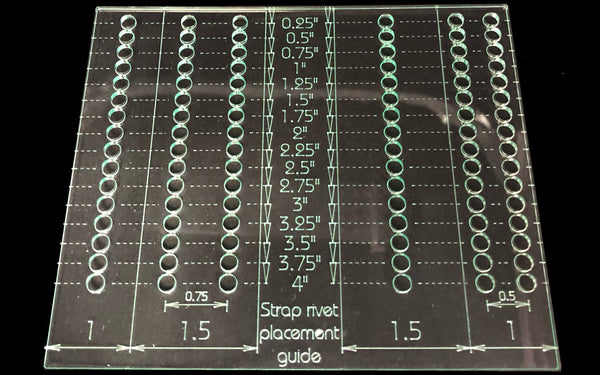 A rivet placement template
This template has single and double holes for 1" and 1.5"  or 0.75", 1" and 1.5" strap widths.
There are single and double holes for 1" and 1.5" and just single hole for the 0.75" width.
If you would like a different size please contact us
Features and Benefits:
• 3mm acrylic
• Durable (can be used time and time again)
• You can see the fabric though the template for ease of placement.
• The template doesn't get lost on the fabric as it has a colour to it
• Made and designed in Dorset, UK
ACRYLIC RIVET TEMPLATE
I recently purchased an acrylic rivet template to help my bagmaking and was very impressed with the quality, fast delivery and supportive packaging. I am very pleased with my purchase and is already one of my go to tools. Thank You.
Great quality
Let's you line up and match patterned material and takes all the hard work of lining uo magnetic catches/rivets as they are marked on template where they need to go very pleased
Brilliant product
Perfect tool for placing rivets on bags. Mine were always wonky but I have used this once so far and they were perfect.
Delivery was super quick and I think it's good value for money.
Happy customer
Rivet placements
Very useful little template, makes placements very accurate.