ACRYLIC TASSEL AND FRINGE MAKING TEMPLATE TO MAKE 6MM/0.25" TASSELS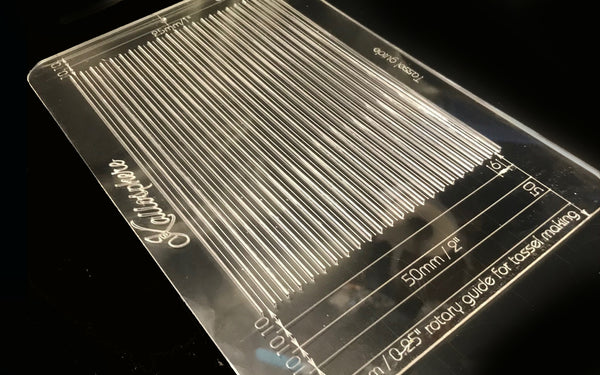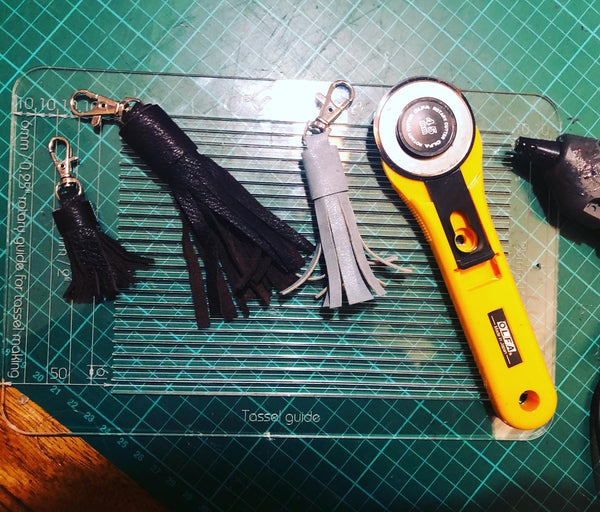 An acrylic tassel and fringe making template
This ruler aids the making of tassels and fringe using a rotary cutter.  The tassels are 0.25" wide.  You can realign the ruler once you have cut the tassels against the engraved vertical line to create thinner tassels.
Simply place the rotary cutter inside the grooves in the template and cut. 
There are horizontal lines 10mm apart at the top and bottom of the ruler.  The top gives a 1" total tassel border. The bottom 2" tassel border. The extra lines allow you to line up shorter tassel tops
Check out the video on how to you this at the bottom the website home page or use this link - click here.
If you would like a different size please contact us
Features and Benefits:
• 3mm acrylic
• Durable (can be used time and time again)
• You can see the fabric though the template for ease of placement.
• The template doesn't get lost on the fabric as it has a colour to it
• Made and designed in Dorset, UK
ACRYLIC TASSEL AND FRINGE MAKING TEMPLATE
I have several acylic templates made by Kallosphere Creative Ltd and all have been great and this one is no exception. Good quality acrylic, well cut - packaged with a fast turnover. Works a treat.
Tassle template and rivet guide template
Excellent product and service
Tassel template
An excellent item added to my sewing room. Tassels turn out great every time. Love it
Brilliant tool
Love this, works great. Takes the hassle out of making a tassel, end result is very professional.
Meine Bestellung
Alles hat super geklappt! Die Qualität der Produkte ist großartig ☺️