LONG TRIANGLE SEWING/CRAFT TEMPLATES CM - QUILTING OR BUNTING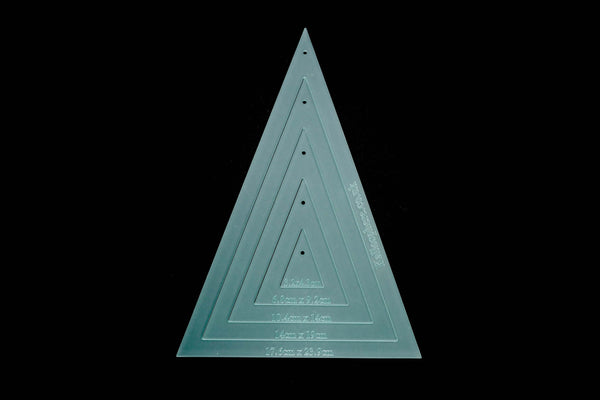 This is a set of four long triangles for quilting or for making bunting. They are very easy to use and can be used with a rotary cutter. 
Our acrylic letter and number stencils fit perfectly in the larger triangles if used for bunting.
The width and depth dimensions are +/- 1%
17.6cm x 23.9cm
14cm x 19cm
10.4cm x 14cm
6.8cm x 9.2cm
3.2cm x 4.3 x cm
It is made from 3mm acrylic which is very durable so can be used over and over again!  The frosted acrylic allows the fabric pattern to be seen through the acrylic for pattern matching.
If you require a different size please contact us!

*Samples in photos are not included in the listing*
A very useful template
A very useful template as it includes so many different sizes of bunting all fitting in the largest saving storage space. As usual very good quality highly recommended.