The Konin Bowler purse by Country Cow Designs acrylic templates only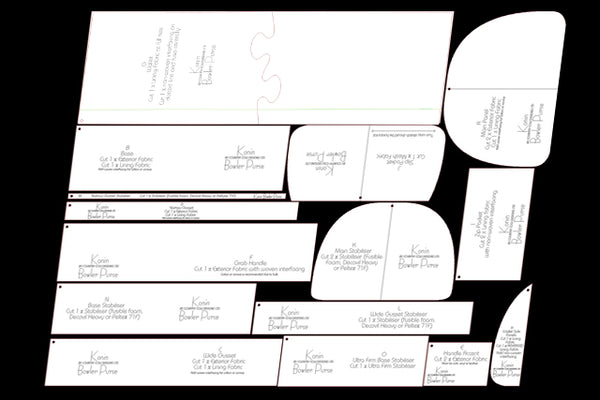 We are proud to be selling acrylic templates for the gorgeous Konin Bowler purse by Country Cow Designs.  
This is a quick pattern to create a stylish mini bowler purse. It features a built-in wallet, complete with space for cards, notes and coins. Konin is the Cornish word for rabbit. This bag came out as cute as a bunny, so it seemed like a fitting name.
All the pattern pieces are included full size to make the bag.    The template for the lining has a jigsaw join to make it easy to store. 
The templates are made from 3mm clear acrylic which can be used with a rotary cutter to make cutting out quicker and more accurate.
These templates are made to order so may take 3-4 days until they are shipped 
Features and Benefits:
• 3mm clear acrylic
• Durable (can be used time and time again)
• You can see the fabric though the template for ease of placement.
 The protective white film is on the templates to protect them in transit 

The templates are made to order so can take up to a week to arrive 
 **This template set does not include the digital sewing pattern.  You will need to either already own the pattern or purchase it separately.  To purchase the pattern and for more information , please visit  https://countrycowdesigns.com** 
PLEASE NOTE - Bag samples in the pictures are not included in the sale