FOUR ACRYLIC BUNTING TRIANGLE SEWING/CRAFT TEMPLATES - 20CM X 20CM (DROP)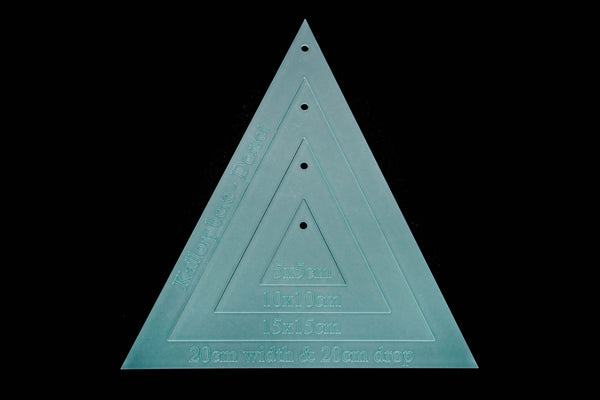 These triangels can be used for quilting and making bunting. The templates are perfect as you can see the pattern on the fabric while you are cutting out so great for getting the pattern in the right place on each triangle.

The sizes are approx -
20cm x 20cm (drop)
15cm x 15cm (drop)
10cm x 10cm (drop)
5cm x 5cm (drop)
Features and benefits
• 3mm premium frosted acrylic
• Durable (can be used time and time again)
• A set of two templates
• You can see the fabric though the template for ease of placement.
• The template doesn't get lost on the fabric as it has a colour to it
• Frosted acrylic is less likely to show scratches and finger marks than other types of acrylic
• Food safe so can be use with cake decorating
• Can be used with all types of media, fabric, felt, card, clay, paint, icing, and more!
• Made and designed in Dorset, UK
They are made from 3mm frosted acrylic and can be used time and time again!
All our templates are made and designed by us in our workshop in Dorset. We can make any template/stencils so if you can't see what you want then please contact us with a design brief.
Amazing
Very good value for this set up it will be so useful
Amazing service fantastic products as always
Fabulous item
Amazing product i love them going to get alot of use out of them love the teapot as well cant recommend highly enough
Triangle template
Why have I not be ordered before will make life so much easier after using cardboard cut out - great purchase!!
Their great don't know how I managed with out them thank you