SPIRAL POLYPROPOLENE SEWING/CRAFT STENCIL 40X40CM AND/OR 56X56CM - QUILTING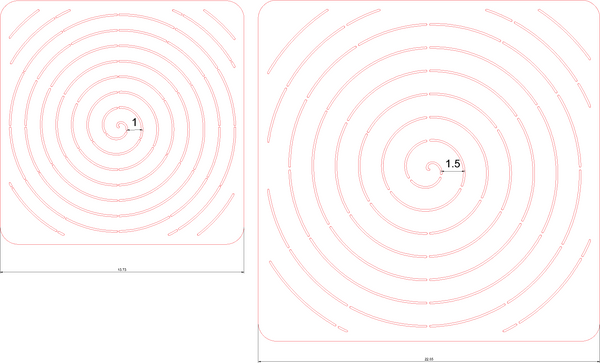 Polypropylene spiral stencils perfect for hand quilting and machine. 
Pick EITHER 40cm x 40cm, 56cm x 56cm or BOTH templates 
40 x 40cm approx 1" between turns
56 x 56cm approx 1.5" between turns 
Features and Benefits:
• Flexible polypropylene 
• Durable (can be used time and time again)
• You can see the fabric though the template for ease of placement.
• Made and designed in Dorset, UK
Great for QAYG
Nice product which I am about to use on a footstool cover. Would suit QAYG too. I also have the Geometric Islamic style template which my quilting friends all covet.
Brilliant large spiral template,
Exactly what I needed to trace on to a Trip Around the World quilt top ready for quilting. Very happy with this product as well as two smaller templates previously purchased. Will certainly use this company again
Amazing stencils
Kallosphere custom created these stencils for me for marking hand quilting designs. They were incredibly helpful with the design process, and the stencils are wonderful. Very easy to mark up quilts with, and you can see through them to place them carefully over your patchwork.
So easy to use!
Love my spiral stencil, it is so easy to use and quilting the lines was also easy. It looks great on my project and I would definitely recommend to other quilters.